Recycling and a Shopping Bag
The local TSC is one place I can be sure to find good quailty BOSS (Black Oil Sunflower Seeds) for my chickens. It is an excellent source of protein and it helps keep their feathers shiney, their eyes bright and their inside healthy.
Summer before last a fifty pound bag was around $16. By Thansgiving of this year the price had crept up to $25.99 a bag. I stopped buying them. The price has slowly started to come back down but at $21 a bag that isn't much savings.
The bag they come in is really pretty with a bright red cardinal and other birds gracing the upper half of the bag. That is one thing that draws me to it. I could buy other seed in pathetically plain bag but this bag calls my name.
It is woven plastic, durable and water proof. There has to be something one can do with such a beautiful bag instead of sending it off to the landfill. Isn't there?
Yes! There is!
Let's recycle and save some money at the same time.
You all know the reusable shopping bags that are a big hit? And consumers are looking for ways not to use those aweful plastic bags that grocery stores and W@lM@art are throwing out their doors? Well, if you are willing to invest in a reusable bag for your grocery items why not a reusable bag for things that are not groceries? Pet store, hardware store, gardening center, you name it and if you buy it you most likely will need a bag for it.
Here's my idea. Let's use these bird seed and feed bags to make something useful, recycle the bag material and look tre chic while we shop. That's the main goal. Look good while doing it!
Ready?
This is the easiest bag you will ever make. It will last you a long time. If you spill something in or on it it will whip right off. You can make two small shopping bags from one fifty pound bag or three larger sized bags from two seed bags. I prefer making three from two bags.
All you need are - two feed bags made of woven plastic, a few striaght pens, a pair of scissors, and a sewing machine on which to sew a straight line.
Here we go.
One seed/feed bag. Remove the paper end pieces and stitching which seals the end of the bag.

You may cut the bag in half or adjust the cutting line to preserve a printed image on the bag. I cut mine with the top piece longer so I can keep the red cardinal on the face of the bag I will make.

Turn the bag pieces inside out.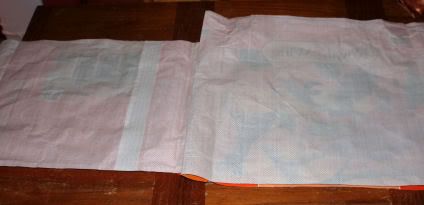 Stitch straight across the bottom of those pieces. I use a small stitch to make it tight. You can turn the piece around and stitch back over it again to make a very tight seam.

Turn each of the bags and open them the opposite way of the bottom seam you made.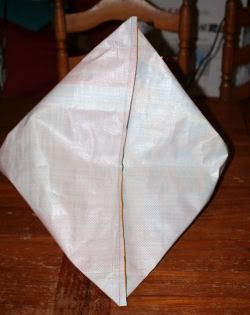 Fold it so that the ends of the seams make a triangle.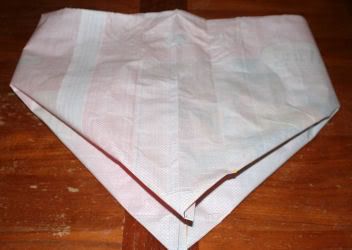 Measure in about 3 inches. Sew a seam straight across making a triangle. This is how you make the bottom of the bag to sit flat.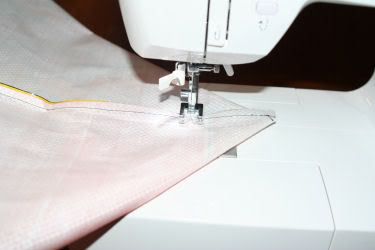 Turn the bag right side out.

Press out the corners.

Now you have a flat wide bottom to your shopping bag - much like a paper bag is made.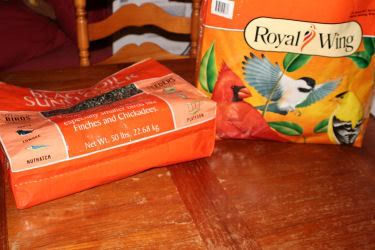 At the top opening of each bag fold down about 1/2 inch then fold down that amount again to create a hem for your bag. Once sewn this makes a nice finish and will ensure your bag ends where we cut won't fray and become ragged.

Take your time, work with the bag and stitch around the top neatly. This stuff can be a bit slippery so don't rush.

Now you need to make handles for the bag. Cut 2 handles for each bag about 4 inches wide by 17 inches long.

Finger press a half inch hem on both side and pin it in place.

Now fold the handle in half and using the same pins secure it together.


Stitch along this side and then turn it around and stitch along the other side of each handle piece. This helps to make a sturdier handle.

Complete all handle pieces.

Measure from the center of your bag and place the handle in position along both the front and back and pin in place. Sew carefully and begin to stitch these in place.

Stitch the handles in place by stitching a square and an X. This will help prevent anything heavy from pulling the handles from the bag. I have not weight tested the bags beyond a gallong of milk so don't think you can haul a bowling ball in there and it won't create stress on your seams because it will.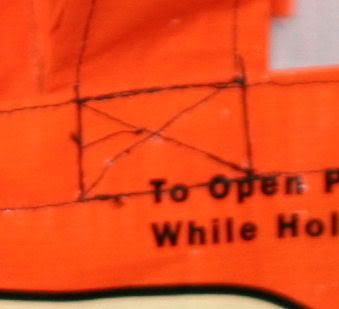 That's it. There you have it. Three shopping bags from two feed bags. Look what you can do in about an hour.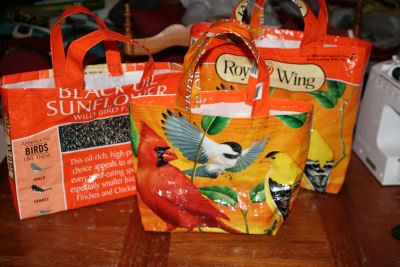 You can nest them together for easy storage.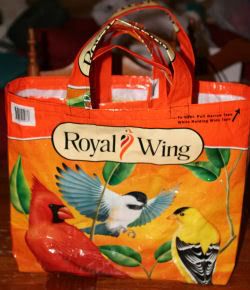 One other thing - don't forget to use them!
Put them in your car and take them with you so that you have them when you need them.
People will compliment you. Ladies will ask where you got them.
Beats those old grocery store logos any day.
You can also use cat and dog food bags made from this same material. How cute is that?
I told you - Crafty, Orange and Recycling.
Wasn't that fun?
Yes. It was! :)
0 TrackBacks
Listed below are links to blogs that reference this entry: Recycling and a Shopping Bag.
TrackBack URL for this entry: http://www.bigredcouch.com/cgi-bin/mt/mt-tb.cgi/132